We support your risk management approach according to ISO 14971: 2019 and ISO/TR 24971:2020
PLG can support you with:
Tailored training of internal personnel involved in the risk management process in all departments, including R&D, manufacturing, quality departments, marketing, and sales; the training is commensurate with the level of responsibility in the risk management process and customized for the client's products.
Assessment of the risk management applied to the entire product life cycle according to ISO requirements 14971 and 13485
Evaluation of intended use—a requirement of ISO 14971 chapter 4.2
Deploying a risk-based approach within the product life cycle by:
Incorporating risk management throughout the design control process
Using risk management as a tool during design and development
Suggesting measures for risk mitigation and risk control.
Implementing risk management processes according to the medical devices regulation (MDR)

Demonstrating compliance with Notified Bodies and competent authorities by means of a documented plan for compliance with the latest requirements
Implementing risk management tools across each stage: preliminary hazard analysis, fault tree analysis, and failure mode and effects analyses
Conducting risk management in postmarket surveillance with regard to the interrelationship of ISO 20416 with ISO 13485 and ISO 14971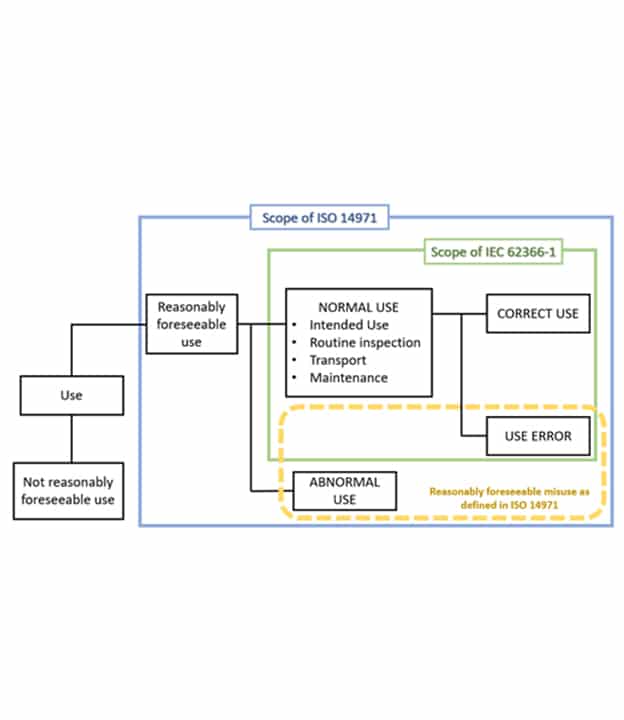 Our expertise in system and product performance
PLG helps your firm manage its usability approach according to the International Electrotechnical Commission's (IEC's) 62366-1 standard in conjunction with risk management requirements specified by International Organization for Standardization (ISO) standards ISO 14971 and ISO/TR 24971.
Assessment of usability as applied in the entire product life cycle according to IEC 62366-1 and ISO 14971
Support in improving usability management in the frameworks of applicable standards—such as IEC 62366-1 and ISO 14971—or with electromedical devices—IEC 60601-1-6—or     current good manufacturing practice (CGMP)
Focus on human factors as applied to software as a medical device (SaMD)
In the framework of the US Food and Drug Administration (FDA) SaMD guidance, the International Medical Device Regulators Forum (IMDRF) SaMD, and the rule 11 of MDR, PLG has the expertise to support you with:
Assessment of usability as applied in the framework of FDA SaMD guidance and IMDRF SaMD, IEC 62304, and International Organization for Standardization (ISO) standard ISO 14971 with regard to impact on the human factors process
Support to improve currently implemented usability procedures, thereby creating building blocks for the complete setup of an SaMD framework and associated controls to demonstrate that the software specifications conform to user needs