Pharma IT and PLG have partnered with two cloud software providers to execute a system where clients can quickly and easily slot in their data and start managing their projects. These cloud-based solutions are GxP-validated and tailored for the pharma, biotech, and MedTech industries.
Ennov is our offering for Electronic Document Management (EDMS), Quality Management System (QMS) and Training Management (TMS), Clinical Information Management (CTMS/eTMF), and Regulatory Information Management (RIM/IDMP, eCTD).
Argus and/or HALO PV is our prime choice for Pharmacovigilance and Safety.
Both systems have been rigorously tested for compliance against best practices and industry standards. Our expert IT team is also available to train and maintain these systems and your data.
Two Pillars of the Pharma IT Cloud
Ennov
DMS, QMS, Training, RIM, IDMP, Dossier Publishing, CTMS, eTMF, etc.
This digital transformation suite is designed to integrate and manage regulatory content. The platform provides a solid foundation due to its intuitive implementation and configuration, flexibility, secure and stable technology, and single repository solution. This Unified Compliance Platform supports and enriches the pharmaceutical product life cycle by enabling the coordination of Quality, Clinical, Regulatory and Commercial data.
Argus Safety and HALO PV
Full PV Management
Argus Safety and HALO PV are multi-faceted pharmacovigilance software which facilitates pharmaceutical companies to optimise global compliance, faster integration of risk management, and enable better safety decision-making. Argus Safety with HALO PV can support data extracts and business process management processes currently not supported within Argus Safety. You can manage ICSR, PSMF, drug safety processes, Signal reporting, Literature search and many more safety responsibilities. These tasks can be automated with machine learning and AI enhancements. This reduces the amount of manual effort required for tedious and repetitive tasks.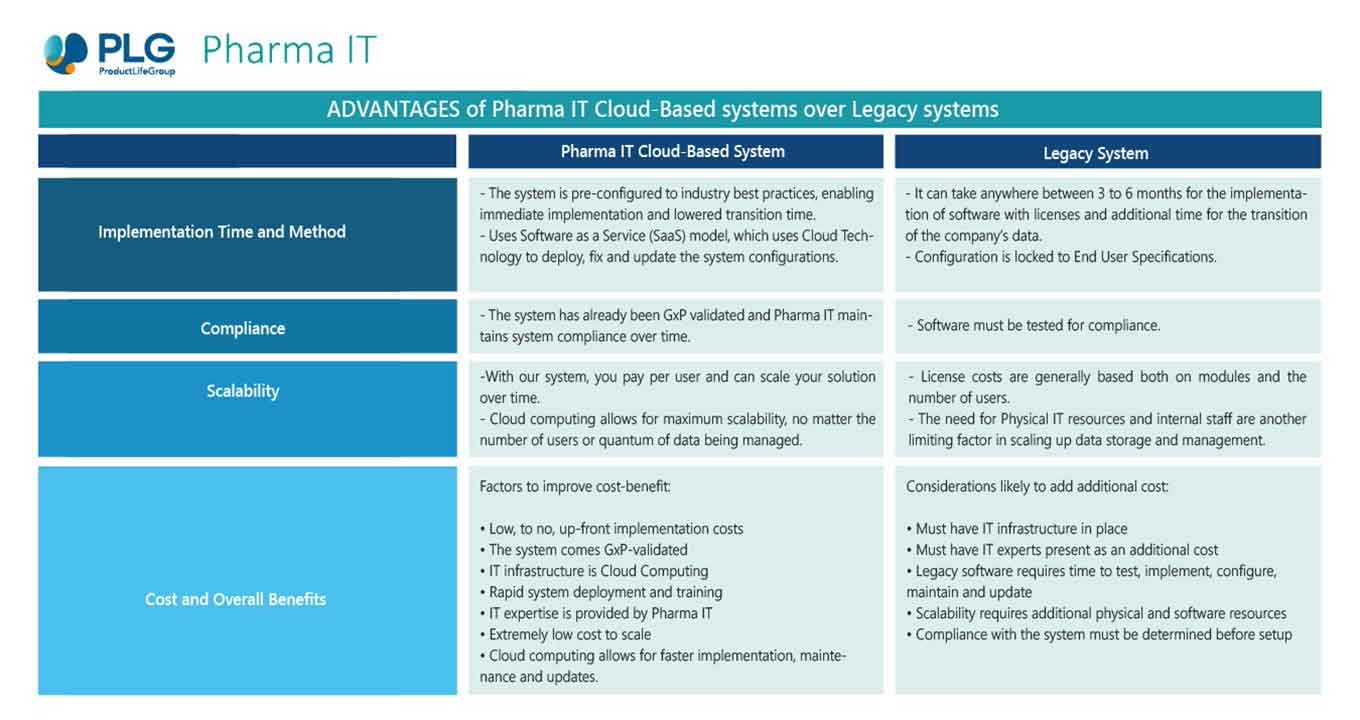 Why Choose Pharma IT & PLG as your Cloud Solutions Partner?
EXPERTISE
Pharma IT was founded in Denmark in 2016, focusing on pharma, quality, and IT. Since then, our company has grown to provide services across the drug development life cycle. Our IT Applications team includes experienced IT consultants and bright young talents, who can support you with all IT Applications processes. We can tailor our services to meet your needs and budget.
PLG is a global life sciences solution provider with expertise in multiple disciplines. In collaboration with our partners at Pharma IT, PLG can support the quality of the information your company produces. Our global reach also allows us to leverage a broad range of external expertise.
AGILITY
Pharma IT/PLG the IT systems come GxP validated and are already implemented.  It is essentially a "plug-and- play" system in which companies can slot in their information and begin working. This rapid deployment method saves the client from any down time and subsequent loss and enables a fast return on investment.